A day in the life of Mistral's Design Intern
---
Poppy graduated from Falmouth University in 2018 with a degree in Textile Design. She joined us in our Design Team for two days a week for 10 weeks, allowing her to maintain a part-time job.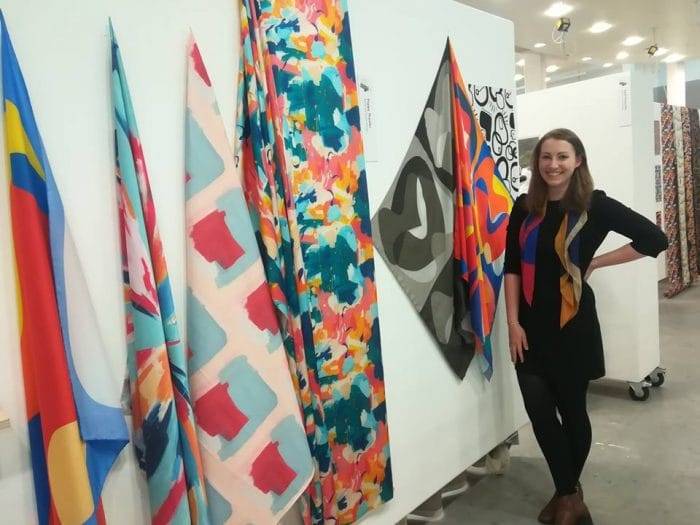 About My Role
Tell us a little about the main tasks in the Design Team?
My main role was centred on helping develop designs for Autumn/Winter 20/21. This consisted of researching trends and themes; drawing and painting motifs; and producing a range of textile designs.
What was the best part of your internship and why?
Getting to witness the growth and development of a collection. When I started, the collections were in the early idea stages. It's been really exciting to see how Hannah and Lauren work with each of the themes and develop a range of designs that are cohesive and original. It's been fantastic getting to know all of the ranges currently in stores, as well as future and past Mistral collections.
Did the internship provide you with any insights and skills that you hadn't anticipated?
As a student you get projects that last months, allowing you to really take your time. In reality you can't afford to be overtly meticulous with each design. You have to be able to produce a lot of designs in a short window of time. Because of this I've learned to work a lot faster, and keep designs fairly straightforward.
What would you like to have known before the internship started?
Just because it's the Head Office, doesn't mean it is going to be an intimidating corporate environment. Everyone is very friendly – I'm going to miss spending time in the office.
Would you recommend your internship to others ?
Absolutely. It was very insightful just to see how the Mistral Head Office functions on a day-to-day basis. At university, you learn about things like trend forecasting and fashion cycles, but how it all unfolds in 'the industry' is a whole other story. You're not necessarily taught what to expect in that kind of environment.
I also loved seeing how the design, buying, and merchandising teams worked together. It's a collaborative environment where everyone is so hard working; they were really inspiring people to be around.
What advice would you give a student/graduate looking for a fashion internship?
Don't feel pressured to do an internship during your degree if the timing isn't right for you. University can be extremely stressful, and it's okay to put your mental health first over finding a summer placement. Do what works for you. If you are looking for a placement, aim for somewhere that shares your values. Be clear about what you want to get out of the experience.
In your view, how important are Internships?
Getting any kind of work experience is valuable, but not everyone can afford to do unpaid internships. It never hurts to network with other designers and (politely) ask for feedback on your portfolio.
How would you rate your internship on a scale of 1 to 10? 9
We always welcome enquiries from enthusiastic people wishing to gain experience in a busy design team. If you are looking for a fashion or textiles industry short term unpaid placement we would love to hear from you.
Please send your CV to the link at the bottom of our careers page.
---
Who do you want to meet next? Let us know: