BROWSE OUR NEW COLLECTION HERE.
OCTOBER, 25. 2021
Written by Amelia Brown

---
What better way to cosy up on a cold Autumn day, than doing a spot of Halloween baking?

Scroll to see some of our favourite spooky season recipes.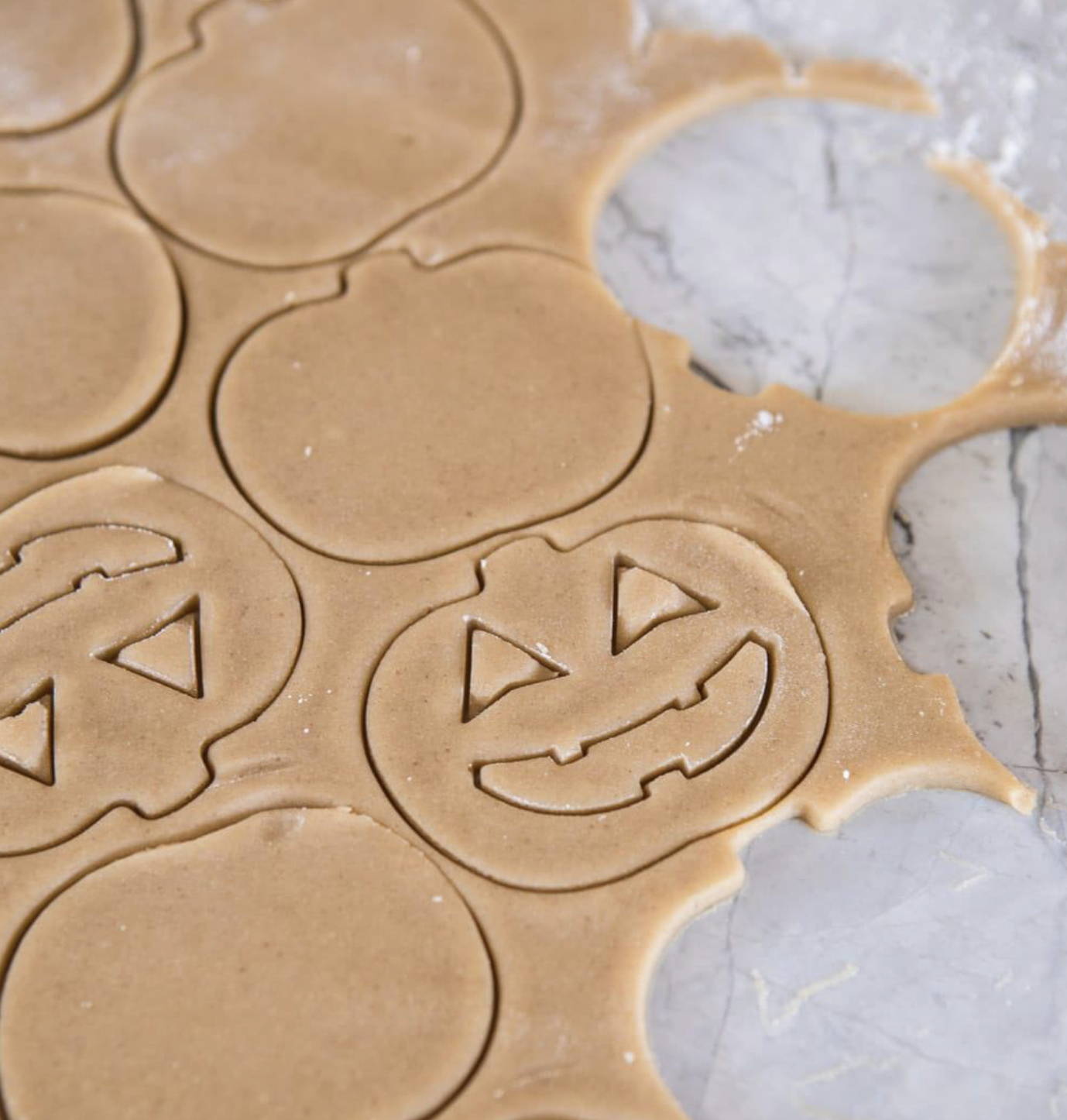 Rice Krispie Pumpkins
Recipe from: onelittleproject.com
Ingredients:
1/4 cup Butter                 40 Large Marshmallows
6 cups Rice Krispies       Red & Yellow Food Colouring
Mini Rolos                       Green M&Ms
1/4 cup Oil/Melted Butter (to keep your hands from sticking!)
How to make them:
1. In a large pot, melt the butter over low heat.
2. Add the marshmallows and stir until completely melted and combined with the butter.
3. Remove from the heat. Add several drops of yellow food colouring, mix together and ten add red food colouring drop by drop until you have the perfect pumpkin colour. Mix well
4. Add the Rice Krispies and stir to combine.
5. Coat both sides of your hands with a generous amount of cooking oil or butter and roll the Rice Krispie mixture into small balls. Set on grease proof paper.
6. While the 'pumpkins' are still warm, generally press a Mini Rolo into the top of each pumpkin as the stem and a green M&M by the side as the leaf.
7. Allow to cool until firm and then enjoy!!
---
Chocolate Stuffed Jack-O-Lantern Cookies
Recipe from: halfbakedharvest.com
Ingredients:
1 1/2 cups Salted Butter                     1 1/4 cups Light Brown Sugar
1 tbsp Vanilla Extract                           2 Eggs
4 1/2 cups All Purpose Flour               1 tsp Baking Soda
1 tsp Cinnamon                                   1/2 tsp Ginger
1/4 tsp Nutmeg                                   1/2 tsp Salt
340g Milk Chocolate
(plus extra melted butter and cinnamon sugar for sugar coating)
How to make them:
1. In a large mixing bowl, cream together the butter, sugar and vanilla until light and fluffy. Add the eggs one at a time and mix until evenly combined. Add the flour, baking soda, cinnamon, ginger, nutmeg and salt. Beat together until the mixture forms a ball.
2. Generously flour your work surface. Divide the dough in half and flatten each into a disk. Roll out the dough to about 1.4 inch thickness. Cut out the cookies using a pumpkin cookie cutter. Carefully transfer onto grease proof paper. Cut eyes and a mouth in half the cookies using a paring knife or cookie cutter. Place in the freezer until firm (about 15 minutes).
3. preheat over to 350 degrees. Bake the cookies on the middle rack for 8-12 minutes or until lightly golden brown. Cool slightly then transfer onto a wire cooling rack.
4. Add the butter to a medium pot. Allow the butter to slightly brown until it smells toasts (about 2-3 minutes). Stir often. Remove from the head and let it cool slightly. Brush over the top half of the cookie and then sprinkle with cinnamon sugar.
5. To assemble, speed the melted milk chocolate over the half of the cookies with no 'face'. Please the top pumpkin faced cookie over the chocolate and press gently to adhere. AND ENJOY!
---
Pumpkin Cupcakes
Image from: thebakingexplorer.com
Ingredients:
175g Light Brown Soft Sugar.                   100ml Vegetable Oil
2 Large Eggs.                                           200g Pumpkin Puree
200g Self Raising Flour.                           1/2 tsp Baking Powder
A pinch of Salt.                                         1 tsp Cinnamon
1/2 tsp Mixed Spice.                                 1/4 tsp Ground Ginger
1/4 tsp Nutmeg
For the buttercream:
200g Butter.                                             400g Icing Sugar
1tsp Vanilla Extract.                                 1 tsp Cinnamon
2 tbsp Milk
(+ fondant pumpkins or sprinkles for decoration)
How to make them:
1. Pre-heat your over to 180c and line a cupcake tin with 12 paper cases.
2. In a large bowl, whisk together the light brown soft sugar, eggs, and vegetable oil. Then add the pumpkin puree and whisk in.
3. In another bowl, stir together the self raising flour, baking powder, salt and all of the spices - cinnamon, ginger, nutmeg and mixed spice.
4. Add the flour mixture to the pumpkin mixture and whisk them together.
5. Divide the mixture between all of the cupcake cases and bake them for 20--25 minutes until they are golden brown. Put them on a cooling rack to cool completely.
6. To make the buttercream, mix together the butter, cinnamon, vanilla extract, milk and icing sugar until smooth. If the buttercream is too stiff, then you can add a little more milk.
7. Pipe the buttercream onto each cupcake using a piping bag and nozzle, or spread it on with a spoon.
8. Add fondant pumpkins or sprinkles if desired, then serve and enjoy!
---
Have a suggestion for our next blog post, email them to us: