---
With London Fashion Week in full swing, we thought now would be the perfect time to walk you through our brand new SS20 range and talk all things colour and trend!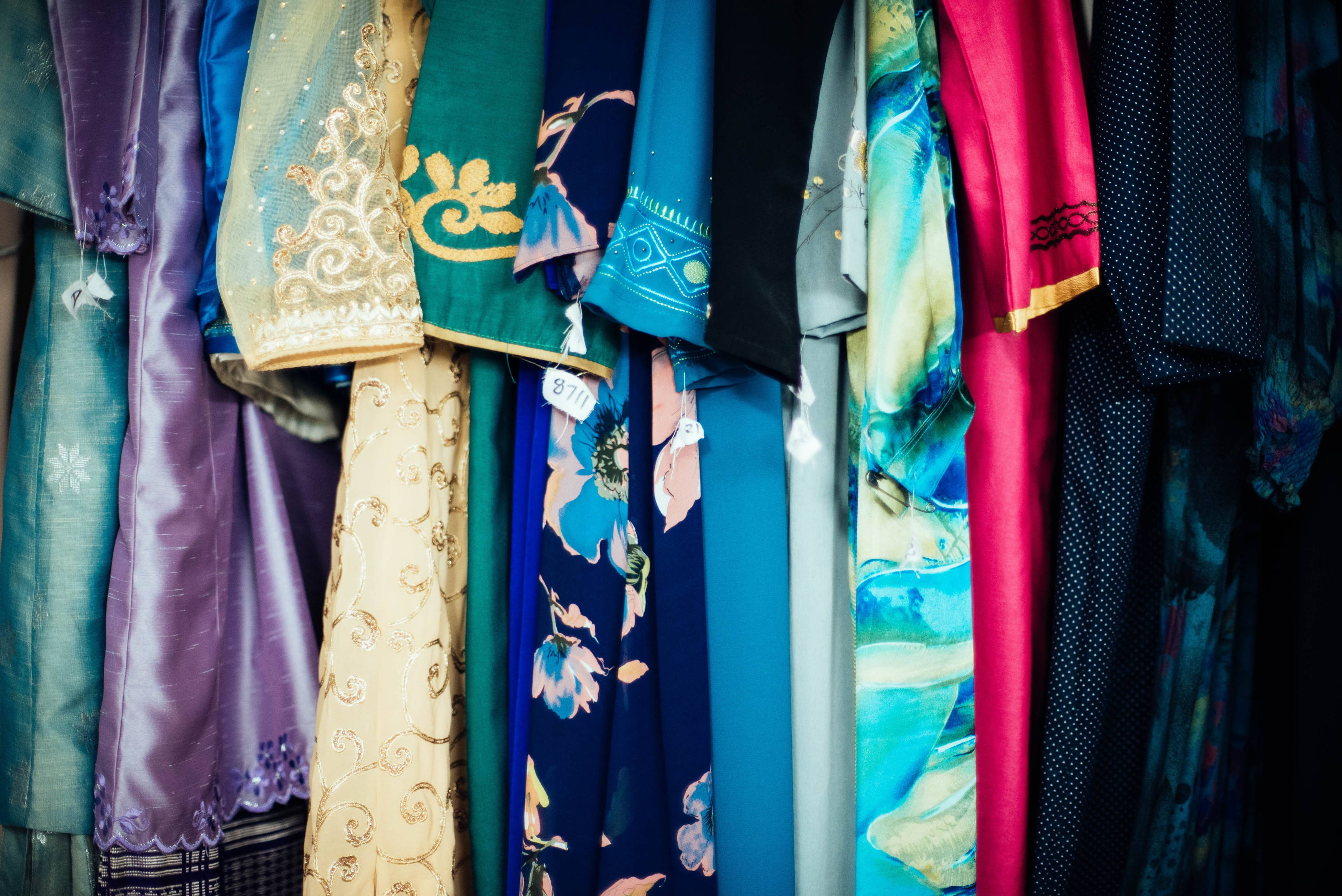 Giving you a sneak peek into the inspirations that have formed the basis of our new collection.
Now don't be alarmed by our use of 'trend', I know it may seem a little off-putting and worrisome. We have to agree that some of the more unique trends that grace the catwalks of New York, London, Paris and Milan don't tend to filter down through our collections. We like to focus on easy to wear trends that are featured, ones that are super wearable and translate beautifully into our specific design style, only using trends that we think you (our lovely customer!) would look great in.
Colour
Colour is such an important factor in any clothing. Here at Mistral, we are BIG fans of colour and print. Throughout our Spring Summer 20 collections you will begin to notice key colours that feature in almost every drop throughout the season. Here is a run-down of this year's biggest colour trends (ones that we absolutely love!).
Orange
We love orange! From the bright and bold to the spicy and warm, this colour features in almost every stage of our Spring Summer collection. You will find this key colour in a vast array of tones and brightness depending on the overall style of the collection and the month in which its release falls. A lot of thought goes into our use of the colour including the temperature, weather, even down to what is happening culturally in the month. The use and tone of orange gets brighter and more frequent throughout the collections, giving the garments as a whole more of a summery and holiday feel.
These orange tones were spotted in the SS20 Collections of designers such as Tom Ford, Versace and Nina Ricci.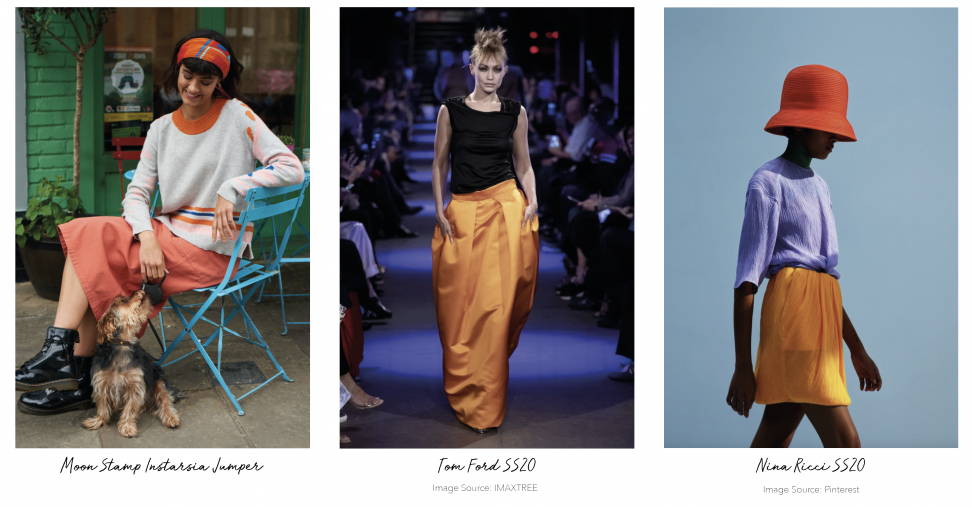 ---
Blue
Classic blue, Pantone's colour of the year and our absolute must-have year on year. We feature blue in all its glorious shades in every one of our collections with this year being no different. It's such a beautifully versatile colour and, I think you'd agree, takes up a large fraction of any wardrobe. This year we are featuring some beautiful bright hues like our Cord Peg Trousers in a striking French Blue, perfect for adding a little spring boldness to the drizzly February days. We truly think that blue as a colour is perfect. It works all year round and looks amazing on every skin tone.
The bold Classic Blue hues were found in the collections of Stella McCartney, Richard Malone and many more!
---
Chive
The softer side of khaki, the beautiful chive tone features heavily in our late spring/early summer drops as the weather gets a little warmer and clothing (and evenings) get lighter. Khaki accents are dotted throughout our summer drops, from wardrobe basics like our classic jersey tees and knits to jumpsuits and dresses in our linen collections. As a summer neutral it's perfect, helping to break up brighter colours like oranges and pinks, creating a super simple chic summer look.
Elie Tahari and Salvatore Ferragamo were spotted using chive tones throughout their SS20 collections.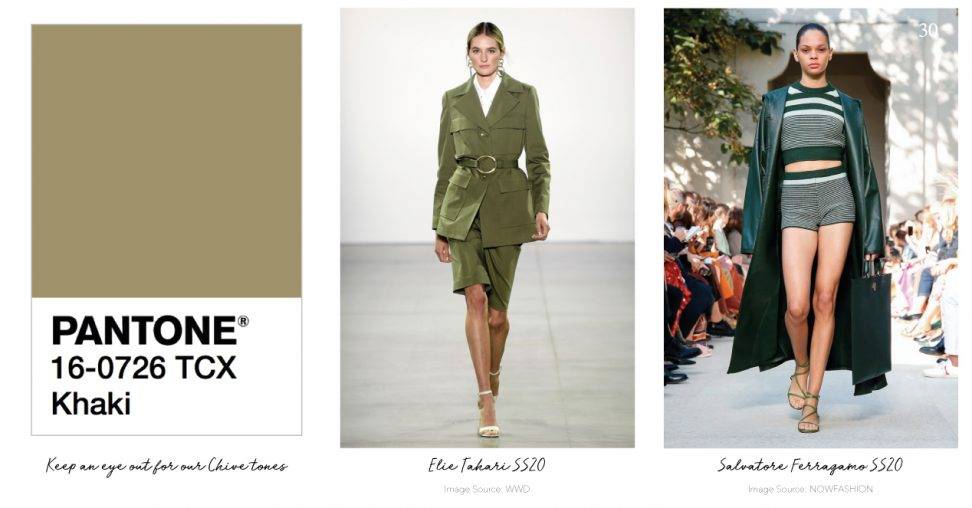 ---
Pink
Feel pretty in pink this season. A variety of pink shades have made it into our SS20 collections. From standout colour block pieces pink speckled prints showcased on our jersey shirts and beautiful printed dresses. Mix and match all season long, breaking up the tone with navy, khaki and white, or cleverly clash alongside oranges and yellows. Be bold or be tonal, however you want to wear it, wear it with confidence.
Pink were a favourite of Gucci and Brandon Maxwell on the catwalk.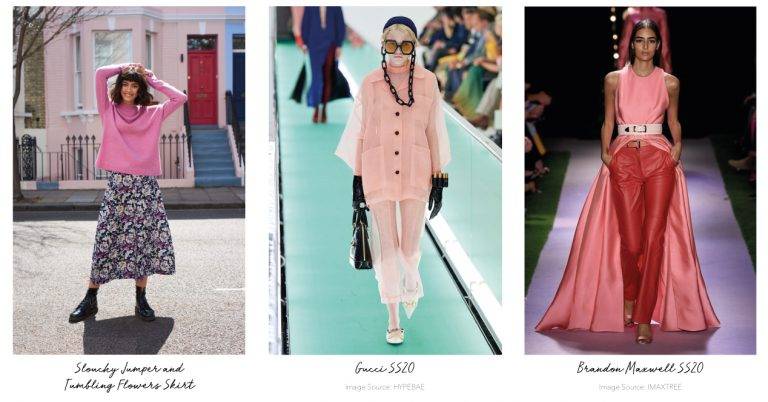 Have a suggestion for our next post, email them to us: